The Tao of Detox
The Natural Way to Purify Your Body for Health and Longevity

by Daniel Reid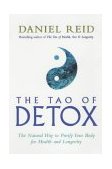 (Click image to buy from Amazon.com)
The holistic approach to detox from bestselling author and leading expert on Eastern philosophy and medicine, Daniel Reid.
Daniel Reid is an expert on Taoist philosophy and medicine. In The Tao of Detox he combines the best of ancient Eastern and the latest of modern Western thinking to provide a whole armory of ways to cleanse our bodies of the environmental toxins we inevitably absorb.
He begins by discussing the basic protocols of detox: flushing out acids, restoring the proper pH balance, `dredging the drains' and keeping the blood circulating freely.
The chapters that follow explore the major detoxing tools: water, massage and soft exercise, breathing, nutrition, fasting and colonic irrigation, sunlight, herbs and even the range of high-tech electro-detox devices currently available.
Then there is a section on `Retox' with advice on using diet and supplements to maintain optimal health, and on how to avoid the toxic effects of smoking, drinking and medicinal and recreational drugs.
It is time we recognised the direct correlation between the external pollution of the environment and the internal pollution of the body. The toxins in the air, in the water and in our food inevitably make their way into the human body, but until we take drastic measures to clean up our planet, we have to detoxify the human system from the inside.
Combining the best of ancient eastern and the latest of modern western thinking, The Tao of Detox offers a solution to restoring and preserving your good health through detox.
If you want to fight chronic disease, live longer, lose weight or just feel the benefits of good health with glowing skin and masses of energy, Daniel Reid's rational and scientific advice will tell you how.
Highly practical, The Tao of Detox shows the way to enjoy immediate wellbeing and the promise of a longer, ailment-free life - and all without sacrificing the enjoyment of life's pleasures.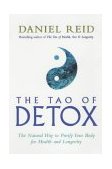 (Click to Order From Amazon.co.uk)